Introduction to Line of Business
Should I enable Line of Business?
Line of Business supports two groups of objectives: financial classification and segmentation of data.
On the financial side, if you want to attribute a billing or expense item to a profit center, or map items to QuickBooks classes, Line of Business will allow you to do that. For some sample use cases and an overview of financial features, refer to Billing and Line of Business.
On the security or data segmentation side, if you would like to manage multiple businesses out of one instance of Autotask, or set up contractors with an Autotask license without worrying about security, you can grant or prevent access to data based on lines of business. For some sample use cases, refer to Data segmentation.
What is Line of Business?
"Line of Business" is shorthand for a system of tags that are applied to Autotask entities, and inherited by the billing items they generate.


Entities that are impacted by lines of business
The visibility of the following entities is affected by lines of business:
Contracts
Contract charges
Milestones
Contract service periods
Contract service adjustments
Contract service bundle periods
Contract service bundle adjustments
Tickets
Ticket time entries
Ticket time adjustments
Ticket charges
Projects
Tasks
Task time entries
Task time adjustments
Project charges
Subscriptions
Subscription periods
Expense reports
Expense items
Opportunities
Quotes
Sales orders
The tags or attributes are completely customizable. You set them up on the Organizational Structure page. There are two levels, and you can select the most appropriate label for each level:
The first level, Division (alternate labels: Business Unit, Branch, Sector, Segment), associates the entity with the highest level sub-unit of your organization.
EXAMPLE  A large company has a Home Appliances and a Turbines division.
What is the difference between divisions and departments?

Departments organize resources who perform specific kinds of work, like Sales or Customer Support. In Autotask, they are associated with resources and work types.
Divisions are self-contained corporate units that are staffed with people from multiple departments. Each division could have resources that belong to the Sales or Support department. They are the highest sub-unit of a company. They are set up to categorize revenue streams and expenditures. They allow you to define cross-departmental and divisional profit and cost centers.
The second level, Line of Business (alternate labels: Application, Core Competency, Function, Line, Offering, Product Line, Service Line, Product/Service Line, Subdivision), is a sector or core competency of an organization. It associates the entity with something your organization does or offers.
EXAMPLE  Lines of Business are Sales, and Installation & Training.

The first and second levels of the organizational structure are set up independently, and then combined with each other. This combination is called a pairing. A single line of business can be paired with multiple divisions, and vice versa.
EXAMPLE  Both divisions are paired with both lines of business.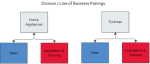 IMPORTANT  It is always the pairing of division and line of business that is applied to entities. When, for simplicity's sake, we speak of Lines of Business, we are always referring to the combination of Division > Line of Business.
NOTE  Throughout the documentation, we will use the default labels, Division and Line of Business.